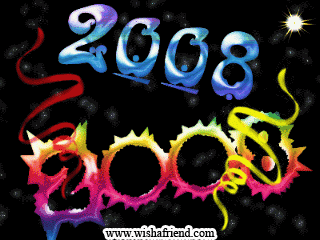 Myspace Graphics at WishAFriend.com
I'm afraid I don't really ever make resolutions at New Year so I don't have any sort of pithy or insightful list to post here. And despite being incredibly psychic (did I forget to mention that? lol) I decline to predict anything particular for the coming year (though I will be staying up until about 2 am to listen to the
annual prediction show on Coast to Coast
). Besides, my dad already handled that (and beautifully) on
his blog
.
For totally inexplicable reasons, I feel really optimistic about this year - it feels to me like things are going to get better, and that life will lighten up a bit (I know it's only temporary, but I'll take it). At some point in 2008, the condo will sell, we will get to revamp the house in WV, I might get to take a vacation, and I will definitely get to go to school. What's not to like about that? And most importantly I have fabulous family and friends (even though I complain and whine and claim they drive me crazy at times).
I hope this doesn't jinx anything - but for the fist time in a long time - I feel happy to be alive, and downright lucky to have lived the life I have and to know the people I know (including my lovely blog-pals whom I may not really "know" but am grateful for anyway).
So, I wish you all a very Happy New Year!